Checkpoint Enhancements - February 2016
We are continually improving the Checkpoint user experience and as a result, we have added a new suggested search to all Keyword text searching in this release. This makes searching quicker and easier as well as delivering more accurate results. As you type in the free text field, the top 10 matching suggested keywords will be presented alphabetically in a list and can be selected. The more you type the more refined the list will become.
You can still type your own search criteria where the suggestions don't match your search criteria or you want to run an advanced search using connectors. Suggested searching is available in the following search areas in Checkpoint;
Home - Basic search
Research - All search templates
Refine Search
Tools Search template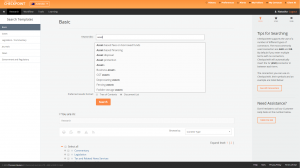 Discover full details on this and other enhancements at Release Notes.
This feature will be available from 18th February 2016.
We develop in partnership with our customers and welcome your input to deliver enhancements that work the way you do.  If you require more information on this release, please contact Support ANZ on 1800 074 333, email us SupportANZ@thomsonreuters.com, or contact your account manager.
Enjoy,
The Checkpoint ANZ Team