New annotated NCAT legislation now available in NSW Administrative Law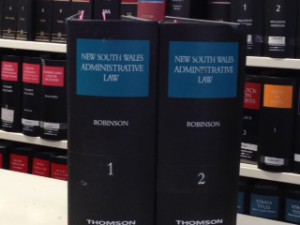 The NSW Civil and Administrative Tribunal, or NCAT, has opened its doors for business from 1 January 2014.
The new 'super-tribunal', which will take up the work of 23 existing State Tribunals, will operate across a wide range of jurisdictions, hearing matters on everything from 'freedom of information' to 'consumer claims', and 'privacy' to 'taxi licensing'.
Supreme Court Judge, Robertson Wright, has been appointed its inaugural President, while Sian Leathem will act as its first Principal Registrar.
To help practitioners to understand and navigate the new scheme, NSW Administrative Law will now feature extensive annotations to all legislation relevant to the NCAT, including the Civil and Administrative Tribunal Act 2013, which takes in a number of amendments from the Civil and Administrative Tribunal Amendment Act 2013; and the Administrative Decisions Review Act 1997.
Authored by former Judicial Member of the Administrative Decisions Tribunal of New South Wales, Mark Robinson SC, these annotations provide practitioners with clear and concise explanations of all of the relevant substantive and procedural processes required to operate in the Tribunal.
"Mark has made the NCAT comprehensible and interesting", said Justice Wright, following a recent address by Mr Robinson to the NSW Bar Association on NCAT.
For more information on the NCAT phone 1300 006 228 or visit the Tribunal's website at www.ncat.nsw.gov.au.
For details on how to subscribe to NSW Administrative Law in looseleaf format or on Westlaw AU, please click here.