Westlaw UK (New)
Thomson Reuters Training & Support
Westlaw UK
Customer success is top priority for the Thomson Reuters team. This site aims to provide materials to assist you with researching Westlaw UK.
To get started with Westlaw UK we recommend you read the User Guide, and attend one or more of the introductory ANZ training webinars.
Additional user guides are available from our UK Training & Support site featuring self-paced Online Training Modules, Video Tutorials and User Guides.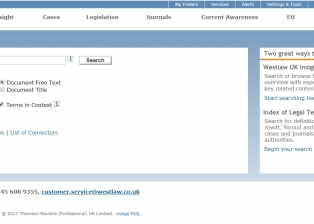 Fri 25 October 2019, 14:00pm
60 minutes
By Elizabeth Odom
This course introduces Westlaw UK platform enabling you to develop the key skills required to Navigate the platform. The session explains the content available and demonstrates the global search which supports both plain language and Boolean searching. Learn to retrieve, refine and download relevant documents.
Please note: The session is 12-1 pm AEDT
Show Transcript