Practical Law Australia
Thomson Reuters Training & Support
Welcome to Practical Law Australia
This site provides user guides, videos, FAQs, tips, update information and more to help you get the most out of your Practical Law Australia service.
We offer customers a range of complimentary training options – including webinars, video tutorials and eLearning modules.
Technical Support Team
OnePass & Registration key assistance and technical support
Telephone: 1800 020 548
Email: Techcare.ANZ@thomsonreuters.com
Monday to Friday, 8:45 am to 5:15 pm (All states)
Customer Care Team
Account, billing, orders and subscription queries
Telephone: 1300 304 195
Email: Care.ANZ@thomsonreuters.com
Ask a Trainer
Our trainers are here to assist you with research questions.
Click Ask a Trainer to submit your inquiry.
Practical Law Australia Login
Go to au.practicallaw.thomsonreuters.com in your web browser.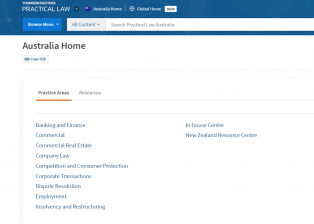 Popular guides & tutorials
Thu 15 February 2024, 13:00pm
30 minutes
By Mary Dossis
Brush up on Practical Law essentials and learn how to get the most from your subscription.
Show Transcript
On 18 September 2023, the Taskforce on Nature-related Financial Disclosures (TNFD) published its highly anticipated final recommendations for nature-related risk management and disclosure. Find out more about the TNFD recommendations and how to begin implementing them in Practical Law...