Checkpoint
Thomson Reuters Training & Support
Welcome to Checkpoint Support
This site provides user guides, videos, FAQs, tips, update information and more to help you get the most out of your Checkpoint service.
We offer customers a range of complimentary training options – including webinars, video tutorials and eLearning modules.
Tax and Accounting Support Team
Telephone: 1800 020 548
Email: Techcare.ANZ@thomsonreuters.com
Monday to Friday, 8:45 am to 5:15 pm (All states)
Ask a Trainer
Our trainers are here to assist you with research questions.
Click Ask a Trainer to submit your inquiry.
Checkpoint Login
Go to www.checkpointau.com.au in your web browser.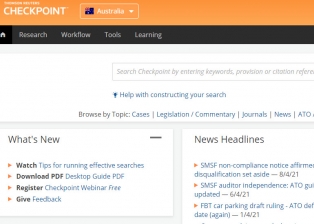 Tue 22 June 2021, 14:00pm
30 minutes
By Tia Friedland
Learn how to get started with using Checkpoint.
Show Transcript
Available now – Private Binding Rulings on Checkpoint
The team at Checkpoint are pleased to announce the release of a new Private Binding Rulings database search, available now on Checkpoint. A subscription to this service enables users to access sophisticated search options to...