Checkpoint
Thomson Reuters Training & Support
Welcome to Checkpoint Support
We want you to make the most of this unique online research resource, so we offer various training and support options that are always available when you need them.
This site provides a selection of your resources such as User Guides and FAQs to help you get started your Checkpoint experience. To find out more and watch videos tutorials, visit the Checkpoint Training & Support site.
Contact our Tax and Accounting Support Team
Telephone: 1800 074 333
Email: SupportANZ@thomsonreuters.com
Monday to Friday, 8:45 am to 5:15 pm (All states)
If you are looking to log on to Checkpoint, go to www.checkpointau.com.au in your web browser.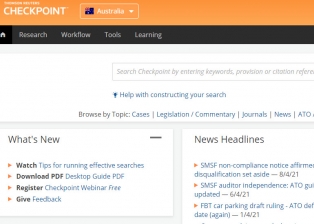 Thu 22 April 2021, 10:00am
30 minutes
By Allison Patrick
Make the most of the XYZ Model Financial Accounts online.
Show Transcript
Available now – Private Binding Rulings on Checkpoint
The team at Checkpoint are pleased to announce the release of a new Private Binding Rulings database search, available now on Checkpoint. A...