ProView
Thomson Reuters Training & Support
Welcome to ProView Support
Thomson Reuters ProView is the premiere eBook experience for professionals worldwide.
This site provides user guides, videos, FAQs, tips, update information and more to help you get the most out of your ProView service.
Thomson Reuters also offers ProView customers a range of complementary training options – from face to face, telephone assistance, webinars and video tutorials.
Click here to link through to the International training and support site features self-paced Online Training, Video Tutorials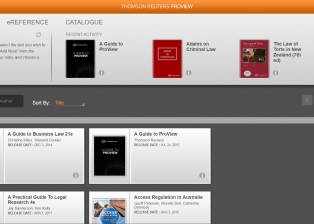 Popular guides & tutorials
Thu 27 August 2020, 14:00pm
60 minutes
By Elizabeth Odom
This course enables users locate resources in the ProView Library for users accessing the platform through using the Web Browser. Learn to navigate, search and browse subscribed content. Learn to retrieve, refine and download relevant documents in addition to using tools that enable the annotation of selected content.
Show Transcript
In October 2017 Butler and Holt's Indictable Offences in Queensland drop out book launched to mark the first anniversary of the subscription service. The book is available in hardcopy and eBook...