ProView
Thomson Reuters Training & Support
Welcome to ProView Support
Thomson Reuters ProView is the premiere eBook experience for professionals worldwide.
This site provides user guides, videos, FAQs, tips, update information and more to help you get the most out of your ProView service.
Thomson Reuters also offers ProView customers a range of complementary training options – from face to face, telephone assistance, webinars and video tutorials.
Click here to link through to the International training and support site features self-paced online training and video tutorials.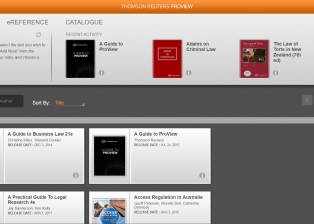 Popular guides & tutorials
Coming to the Australian Law Journal in May.