Can I use ProView on my smartphone?
Yes, ProView is now available on Apple iPhones by installing the smartphone-optimised app from the Apple App Store.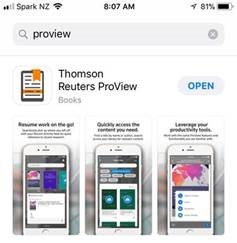 Other smartphone devices are not currently supported.
Now your library fits in your pocket
Conveniently reference Thomson Reuters ProView eBooks with your iPhone anytime, anywhere. Experience our market-leading eReader technology optimised for a smartphone screen, with all the ProView features and functionality professionals rely on to do their work better and faster.
Resume your work while on the go
Seamlessly pick up where you left off with your Recent Activity feed for quick reference to recent research. ProView synchronises activity across your devices, giving greater continuity and mobility to finish your tasks.
Quickly access content you need
Easily find a title by name or author, search across your library for relevant content, or navigate a title's table of contents to locate the answers you need.
Leverage your productivity tools
Confidently work with the same ProView features and functionality you are familiar with, including the ability to create annotations and share content and links.