Practical Law Australia
Thomson Reuters Training & Support
Welcome to Practical Law Australia Support
This site provides user guides, videos, FAQs and more to help you get the most out of your Practical Law Australia service. If you are looking to log on to Practical Law, go to www.practicallaw.com.au in your web browser.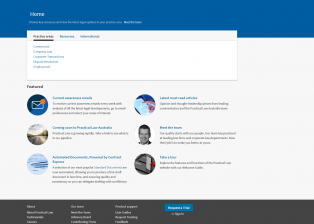 Popular guides & tutorials
The Practical Law Banking and Finance module has been expanded to include two new key resources:
a CHESS Sponsor Tripartite Deed; and
a Priority Deed.
The CHESS Sponsor Tripartite Deed complements the...