Practical Law Australia
Thomson Reuters Training & Support
Welcome to Practical Law Australia Support
This site provides user guides, videos, FAQs and more to help you get the most out of your Practical Law Australia service. If you are looking to log on to Practical Law, go to www.practicallaw.com.au in your web browser.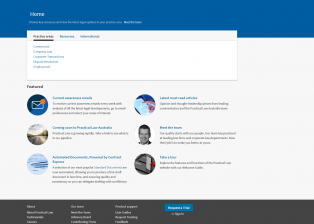 Popular guides & tutorials
Tue 09 June 2020, 10:30am
1 hour
By Rachael Lane
This class will guide you through Practical Law's tools and resources, including showcasing the materials Practical Law is currently providing to help practitioners efficiently address the new legal and practical challenges that arise from the Covid-19 pandemic. We will cover:
What are some of the key considerations legal practitioners need to have in mind as a result of the pandemic?
Resources Practical Law has created and the best ways to find them
How can subscribers ensure they are up to date with legal developments?
Getting more out of your subscription – using Practical Law to save documents on the cloud, collaborate with colleagues, and keep up to date with changes
Show Transcript
This document contains the usual definitions and commercial terms included in a facility agreement where the lender and the borrower have agreed to the capitalisation of interest and fees payable...