My Account
Thomson Reuters Training & Support
Welcome to My Account Training and Support
My Account provides members of your organisation with the ability to view billing and payment information and to manage user access of your Thomson Reuters online services.
This page provides a range of help tools, including user guides, answers to frequently asked questions and more.
This page will be continually updated to check back frequently for more tips, user guides and other materials to assist you with working with My Account.
Accessing My Account
In order to access My Account you will need
Your registration key which is generated by Customer Care
Your OnePass Username and Password
If you require a registration key please contact Customer Care .
P: 1300 304 195 (AU) | 0800 10 60 60 (NZ)
Customer Care: 8AM-6PM (AU) | 8AM-8PM (NZ), Monday to Friday.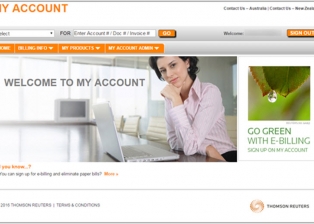 Popular guides & tutorials