Practical Law Australia Tip - What are Case Trackers and how can I use them?
Last Published: January 24, 2022
Case trackers will generally identify the leading full court or full bench decisions in the area, and then list key lower court or tribunal decisions that have followed and applied that decision.
They list out significant Court and Tribunal decisions, classified by the factual scenario of the case. This allows you to quickly locate cases that deal with a similar scenario to the situation your client or organisation is facing. Our writers break down the practical implications of the case, and link out to other Practical Law resources that provide guidance on the steps to take if you face a similar situation. We also provide a link to the case on Westlaw so you can continue your research.
To access Case Trackers, click into the Employment practice area from the Practical Law Australia homepage.
Click on the Case Trackers tab to see a list of topics covered, and then click into your topic to view relevant cases.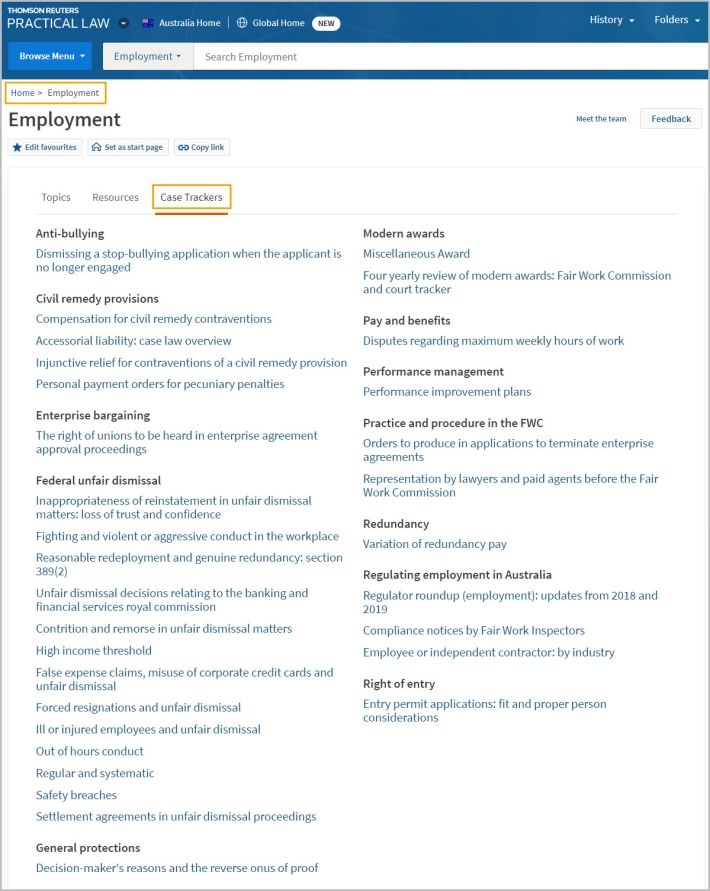 For each decision, key information is identified or summarised, including:
The case name, including a link to the case in Westlaw
The date of the decision
The judicial member or members
The statute, provision or relevant point of law
The background to the dispute
The decision, and the reasoning of the court in making its decision
Key points for practitioners
You may wish to set a document alert against the Case Tracker to be notified when it is updated with new cases.