New Westlaw (Australia) Tip - Using annotations
Last Published: March 23, 2020
Save your document into a folder
We recommend that before creating an annotation you save it into a folder.
Click on the Folder icon to save into a folder.

Document level annotations
Annotations at the document level can be general notes. When in the document you want to annotate such as a law report or unreported judgment, click on the annotation icon and
Add document level note.

Text based highlights and notes
In your document, highlight the text you want to highlight or create a note for using the left mouse button. When you let go, a pop up menu appears.

Select Add a note or Highlight. You can colour code them by using different colours.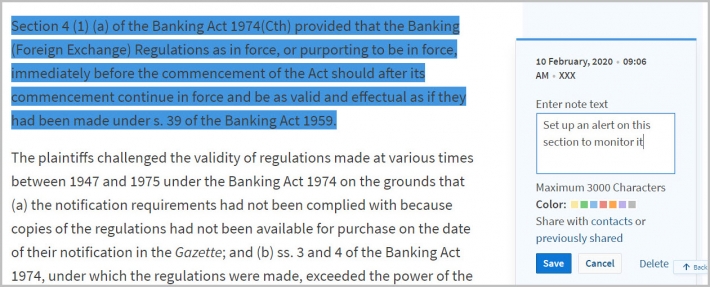 Sharing annotations with other users
If you are carrying out research for someone else, working on a matter together or a student working together on a group assignment, sharing annotations and folders provides easy access to resources, in a way similar to a shared computer drive.
If you have not previously shared with anyone in your organisation, Click on Share with contacts.
Search for the user you want to share with.
Click on their name to share.
Click on Insert to share.
You can create a group to share with such as practice team or study assignment group.