Practical Law Australia
Thomson Reuters Training & Support
Welcome to Practical Law Australia
This site provides user guides, videos, FAQs, tips, update information and more to help you get the most out of your Practical Law Australia service.
We offer customers a range of complimentary training options – including webinars, video tutorials and eLearning modules.
Tech Support Team
Telephone: 1800 020 548
Email: Techcare.ANZ@thomsonreuters.com
Monday to Friday, 8:45 am to 5:15 pm (All states)
Ask a Trainer
Our trainers are here to assist you with research questions.
Click Ask a Trainer to submit your inquiry.
Practical Law Australia Login
Go to au.practicallaw.thomsonreuters.com in your web browser.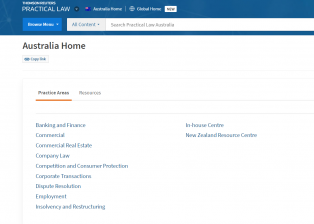 Popular guides & tutorials
Mon 25 July 2022, 14:00pm
30 minutes
By Rachael Lane
Brush up on Practical Law essentials and learn how to get the most from your subscription.
Show Transcript
Companies, their boards, customers and other stakeholders are increasingly aware of environmental, social and governance (ESG) issues and the impact these issues may have on business operations, and many entities are supporting the fight against climate change and the move towards...