Westlaw (Australia) Guide - User preferences
Last Published: January 16, 2020
At the top of the page, click the user icon.
Select Preferences in the menu.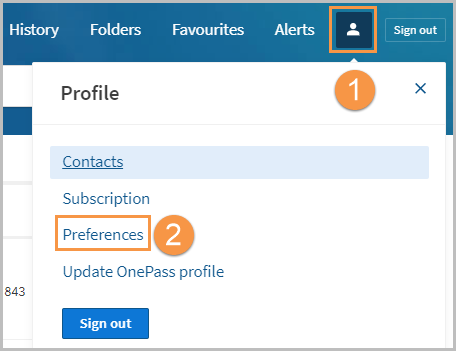 ---
Profile
Update your time zone, preferred jurisdictions, and homepage content.
Time zone – Change the time zone to your local GMT.
Jurisdiction – Limit your search results to national and/or international jurisdictions.
Edit home page – Choose to display or hide News headlines.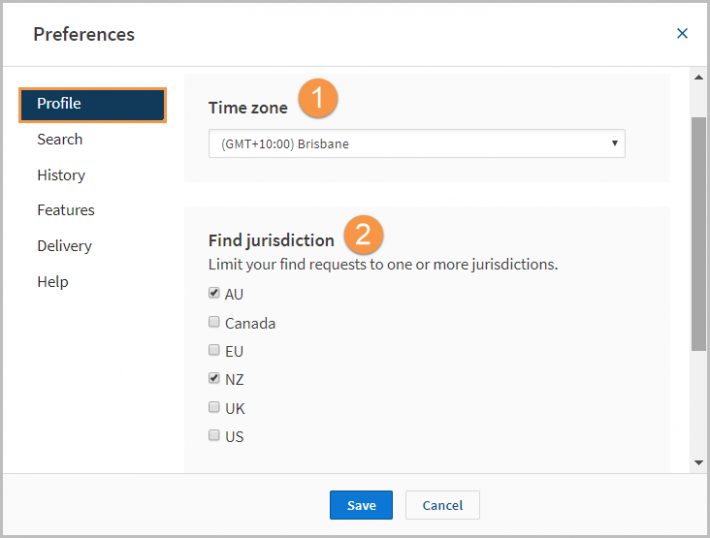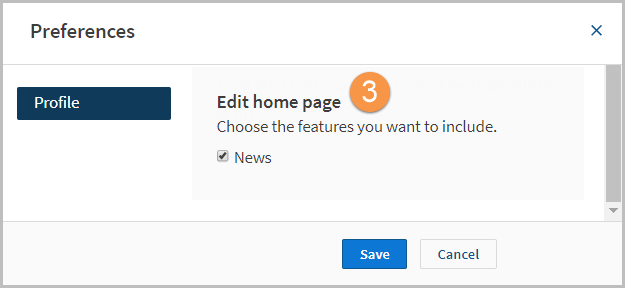 ---
Search
Change your search options, display, and sort order.
Terms and Connectors search – choose to run searches with AND, OR, &, or "quotation marks" as advanced searches.
Document display – show or hide highlighting of search terms in documents.
Result list snippets – show more words before and after relevant highlighted search terms in the result list, e.g., an additional 20, 30, or 40 words on either side of your keywords.
Default sort order – change the way different content types are sorted, e.g., Relevance, Date, Court, Table of Contents.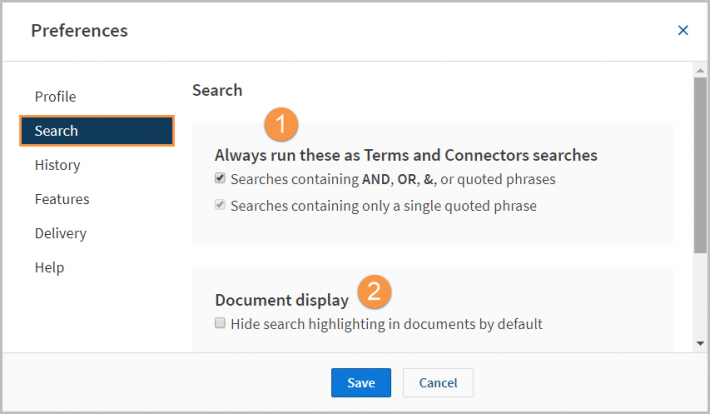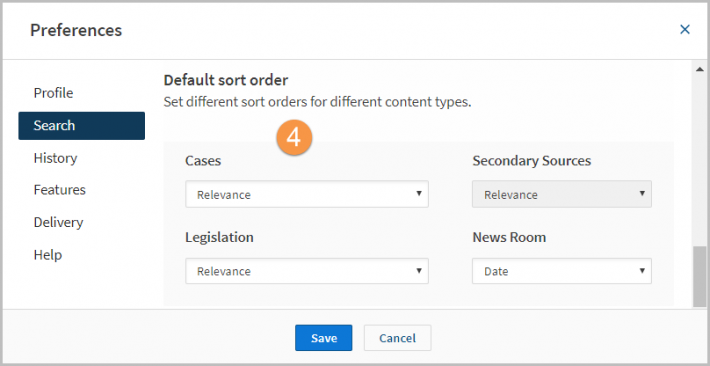 ---
History
Set Westlaw to email your session history automatically.
Tick the check box to automatically email your session summary when you sign out.
Add multiple email addresses to send the history to others.
Select the attachments' format: Word, RTF, WordPerfect, or PDF.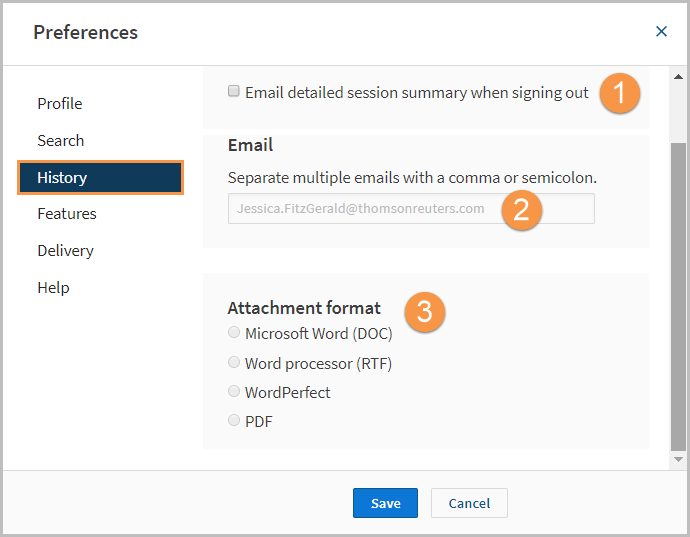 ---
Features
Show or hide relevant features in your search results.
Best portion – Find relevant sentences in your document based on search term density and frequency.
Law summaries – See common legal questions as you type in the search bar and summaries or specific passages that relate to those questions above your results list.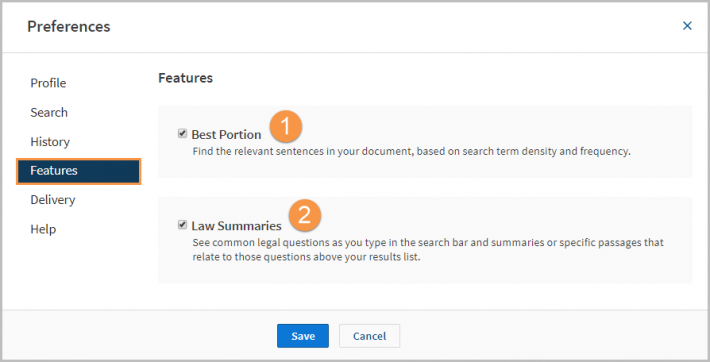 ---
Delivery
Choose default delivery formatting, layout and style, and inclusions.
Document format – RTF, Word, PDF, WordPerfect.
Multiple documents – Single merged file, multiple files (zip folder).
Dual column layout for cases – Display cases with a dual column layout.
Footnotes – Inline or end of document.
Link colour – Blue or black.
Font size – Normal, large, and/or underlined.
Inclusions:
Legislation text only for Legislation.
Only pages with terms.
Corresponding document with KeyCite lists.
Term highlighting.
KeyCite treatment – include negative treatments.
Original image and other version links – court-ready documents.
Expanded margin for notes.
Add a cover page to each request.
Headnotes.
- Show full Key Number hierarchy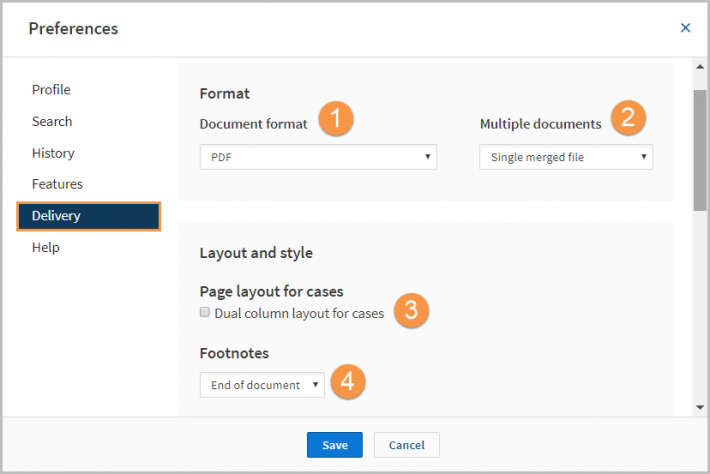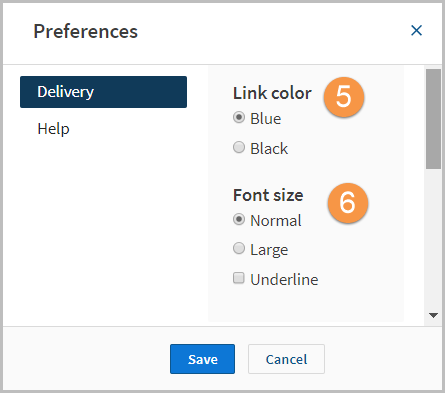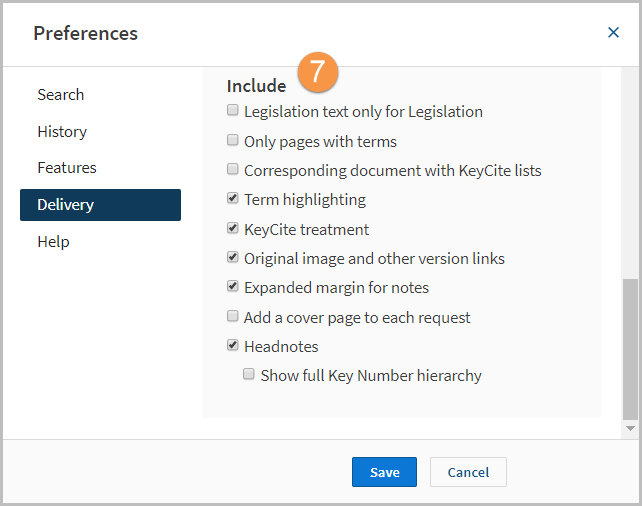 ---
Help
Choose whether to show or hide keyboard instructions.
Show or hide keyboard instructions – These tell you how to navigate through Westlaw with your keyboard instead of your mouse.
Keyboard instructions can be found by pressing the keyboard's Tab key through the homepage.