Practical Law Australia
Thomson Reuters Training & Support
Welcome to Practical Law Australia
This site provides user guides, videos, FAQs and more to help you get the most out of your Practical Law Australia service.
We offer customers a range of complimentary training options - including face-to-face, telephone, webinars, and video tutorials. Click here to request training.
Our trainers are also here to assist you with research questions. Click Ask a Trainer to submit your inquiry.
If you are looking to log on to Practical Law, go to www.practicallaw.com.au in your web browser.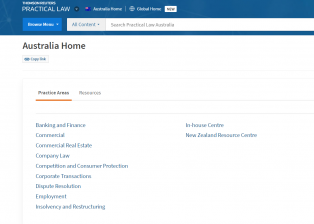 Popular guides & tutorials
Wed 02 December 2020, 10:30am
30 minutes
By Rachael Lane
This session will provide an introduction to the global resources included in a Practical Law Australia subscription.
Show Transcript
Content updates
Enhancements
We are excited to announce that FirmStyle is now available on Practical Law Australia. This new feature allows you to open a Practical Law Australia precedent with your own organisation's branding...