ATO Interpretative Decisions - Search
Did you know that you can easily find ATO Interpretative decisions on Thomson Reuters Tax & Accounting Online in one click?
Let's search for ATO ID 2001/803.
Enter the ATO ID reference in the Exact Phrase search box in Easy Search.
Select ATO Interpretative Decisions under ATO Databases from the Table of Contents on the right hand side or check the relevant ATO box on the main screen.
Click search.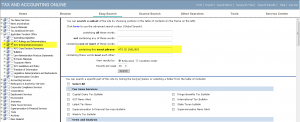 You should see one result.

As you open this one result you will be redirected to the document on the ATO website.