Optimize Your Online Insider Experience - RSS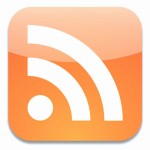 RSS is a quick and easy way for you to get a summary of what has been added to the Online Insider.
It saves you time and means you don't have to remember where to go to access your information or get bombarded with newsletter after newsletter from all the sites you view regularly.
RSS can be used as an alternative to or in conjunction with the Online Insider Newsletter.
Some of the benefits of RSS are:
Real time awareness - as soon as a new article is posted to the blog you will see it in your RSS feed
Online Integration - your RSS feed can be integrated into your Intranet or internal communications
Alerting - RSS can be used in conjunction with a Feed Mailer or Outlook 2007 to insure you are alerted via email whenever a new article is added to the site
Click here for more information on RSS feeds.
To subscribe to the Online Insider RSS feed you can log on to the blog at any time and click on the RSS icon in the top right hand corner or why not subscribe right now by clicking here.