Westlaw AU Tip - How to Create a Quick Link
A Quick Link provides one click access to content from the Westlaw AU homepage.  You can create a Quick Link to a content type, a product title, a volume, a chapter or a document. 
Note: This feature is only available to customers who access Westlaw AU using a Username & Password or OnePass access.
Step 1: Log onto Westlaw AU with your Username & Password or OnePass.
Step 2: On the homepage, for example, expand the Legislation and Commentary content type by clicking on the + sign to reveal the services.  Click on the yellow Quick Link star next to Australasian Dispute Resolution.
Step 3: The Save this as a Quick Link box will appear.  Type in a name for the Quick Link and click Save.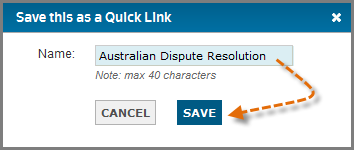 Step 4: The newly created Quick Link is displayed on the left hand pane of the homepage. The link is dynamic and will refresh to provide the relevant current content each time you click on it.  The Quick Link can be deleted by clicking on the X icon.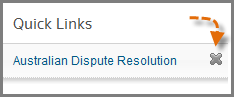 WANT TO LEARN MORE ABOUT WESTLAW AU?
Why not attend one of our Webex drop-in training sessions?  Webex drop-in training provides a quick and convenient method for learning more about Westlaw AU and gaining the most from your subscriptions.  Or,  contact a Training Specialist to organise a training session that suits your schedule.