Westlaw AU Tip Update - How to Search for a Phrase
When searching for a Phrase in Westlaw AU use quotation marks to define the phrase.   Examples of exact phrases include "break enter and steal", "in consequence of" , "mining lease", "liability for duty" and "to take effect of".
Step 1: Log onto Westlaw AU
Step 2: Enter your phrase into the search box and include quotation marks at the beginning and end of the phrase.  You can also use a wildcard within a phrase search.  For example to locate evidentiary burden or evidence burden enter "eviden! burden".  Click Search.

Step 4:  To find out more about Terms and Connectors locate the Need Help? Hints and tips on advanced searching techniques  link, on the homepage.  Click on this link. 

Step 5: A Terms and Connectors table will open in a window.  Scroll down this table to find more options.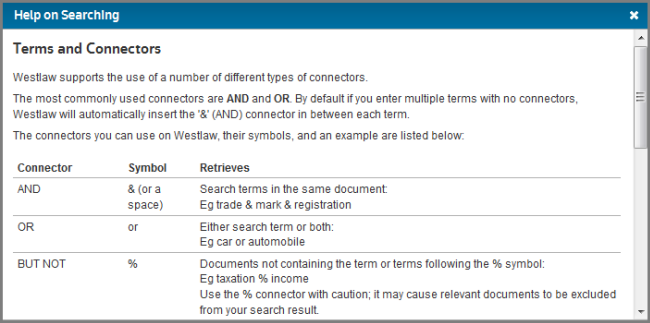 WANT TO LEARN MORE ABOUT WESTLAW AU?
Why not attend one of our Webex drop-in training sessions?  Webex drop-in training provides a quick and convenient method for learning more about Westlaw AU and gaining the most from your subscriptions.  Or,  contact a Training Specialist to organise a training session that suits your schedule.