Westlaw AU Tip - What is OnePass Sign In?
A OnePass Sign In profile is a username and password created by the subscriber that can be used to log into multiple Thomson Reuters products, including Westlaw AU, Checkpoint, Westlaw International and ProView.
Step 1: From Monday 28th October you will be given the option from the Westlaw AU Log In page to Create a OnePass Account.  If you have not yet done this click the Create A OnePass Account button and follow the prompts to create your OnePass Sign In profile.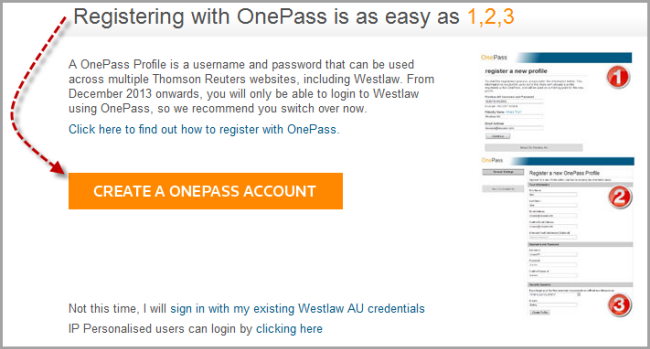 Step 2: The following resources have been created to help you move to OnePass.
                 OnePass Registration Guide - how to create a OnePass Profile
                 OnePass FAQ's - frequently asked questions.
Step 3: If you have questions, please contact the Customer Helpdesk on 1800 020 548 or email LTA.Helpdesk@thomsonreuters.com
Note: Customer Care will only have access to OnePass Usernames.  For security purposes, Customer Care does not have access to OnePass passwords. To reset passwords Customer Care will email a temporary password.  Once logged in using the temporary password, you will be prompted to create a new password.
If you wish to create your OnePass profile at a later date or have IP access, click on the options highlighted below.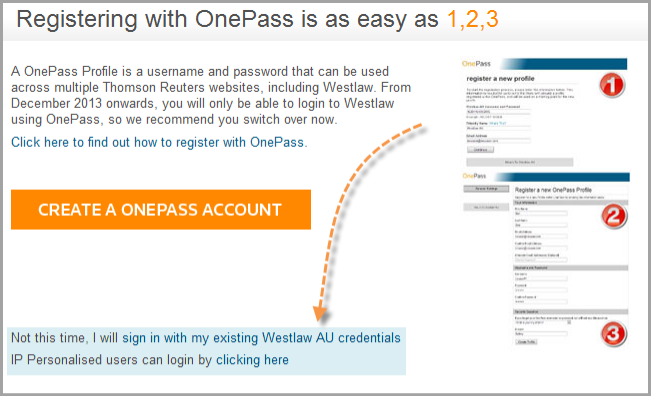 WANT TO LEARN MORE ABOUT WESTLAW AU?
Why not attend one of our Webex drop-in training sessions?  Webex drop-in training provides a quick and convenient method for learning more about Westlaw AU and gaining the most from your subscriptions.  Or,  contact a Training Specialist to organise a training session that suits your schedule.