NSW Civil Procedure: a simpler, smarter service
Thomson Reuters is pleased to announce the launch of the new NSW Civil Procedure online, eSub and in print.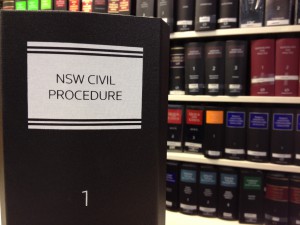 This week, subscribers to Thomson Reuters' NSW Civil Practice and Procedure will see their services upgraded to the simplified and streamlined NSW Civil Procedure.
On Westlaw AU, users will receive one-click access to content on the Supreme, District, Local Courts – all together for the first time. Looseleaf customers will be issued with two new binders - Volume 1: for Court use and Volume 2: for desk use, replacing their existing service, while subscribers to ProView will see added content and improved structure.
The relaunch of NSW Civil Procedure is the result of a series of feedback sessions with practitioners. Overwhelmingly, what we discovered was a need for a simplified court procedure work that responds quickly and helpfully to significant cases and practice developments.
Maintaining our dedication to the accuracy and currency of clear commentary on the legislation, our General Editors, the Hon John P Hamilton QC, the Hon Justice Geoff Lindsay and Carol Webster SC have worked with our in-house editorial team to redesign the service with the knowledge that speed and ease of use are simultaneously critical for practitioners in court.
In court, meetings, or researching a point of procedure, the new NSW Civil Procedure has everything you need, all in one place.
If you'd like to subscribe to NSW Civil Procedure or have any questions about your existing subscription, please contact Gregory Sarlas, Product Manager at gregory.sarlas@thomsonreuters.com.
For all other queries, contact Customer Care on 1300 304 195 or LTA.Care@thomsonreuters.com.