Westlaw AU Enhancement – Link Builder
Link Builder has been added to all documents to allow users to copy & share a permanent URL to the document. This will address the issue some customers are experiencing with inconsistent deep linking.
Link builder will be further integrated into the site early in 2013 for Results Lists, Product and Table of Contents linking.
To use Link Builder follow these steps;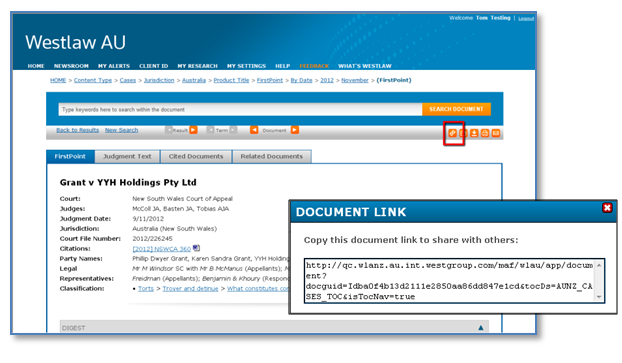 Browse or Search to locate a document.
While viewing the document click on the Link Icon  in the top right hand corner under the "Search Document" button.
Copy the document link from the pop up window.
If you have any questions or require support using any feature on Westlaw AU,  our support team would love to assist you.
You can contact them on 1300 133 041 or WestlawAU@thomsonreuters.com.