Adobe 7 Cases PDF Printing issue
Adobe 7 users with Internet Explorer 6 may be experiencing a PDF printing issue effecting our Full Text Case records. Users with Adobe Version 7 may find that their case records are printing out with a blank first page.
This can be fixed by upgrading to the latest version of Adobe, or if you are unable to upgrade the following workarounds exist.
1) At print: Once The Print dialogue box appears, change the Page Scaling setting to None and then click OK.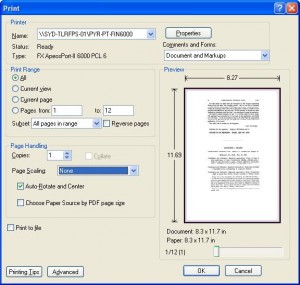 2) Permanent: Set Adobe Reader as the default program for PDF download link when clicked in web browser.
Open Adobe Reader.
Click on Edit in the menu bar.
Then click on Preferences in the drop down menu list.
Click on the Internet category on the left pane.
Uncheck the check box for Display PDF in Browser.
Note: This permanent fix will effect all PDF's being viewed online and will mean they are no longer opened in the web browser. This may or may not be preferred based on your browsing preference.