Westlaw AU
Thomson Reuters Training & Support
Welcome to Westlaw AU Support
This site provides user guides, videos, FAQs, tips, update information and more to help you get the most out of your Westlaw AU service.
We also offer customers a range of complementary training options – including face to face , telephone, webinars and video tutorials. Click here to request training.
If you are looking to log on to Westlaw AU, go to www.westlaw.com.au in your web browser.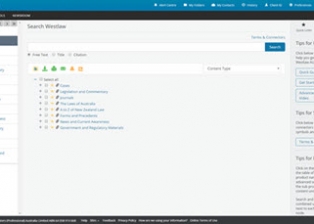 Popular guides & tutorials
Wed 05 August 2020, 10:00am
20-30 minutes
By Tia Friedland
This session demonstrates how to conduct various searching options available on Westlaw AU including basic, advanced, and product-specific searches.
Show Transcript
The Uniform Evidence Law Noticeboard is your definitive resource for evidence law news as it occurs. With rapid updating by respected barrister, Stephen J Odgers SC, the Noticeboard keeps you apprised...