Westlaw AU
Thomson Reuters Training & Support
Welcome to Westlaw AU Support
This site provides user guides, videos, FAQs, tips, update information and more to help you get the most out of your Westlaw AU service.
We also offer customers a range of complementary training options – including face to face , telephone, webinars and video tutorials. Click here to request training.
If you are looking to log on to Westlaw AU, go to www.westlaw.com.au in your web browser.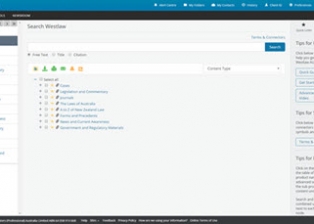 Popular guides & tutorials
Wed 02 May 2018, 11:00am
30 Minutes
By Rachael Albert
This course focuses on locating and searching legislation and commentary services in Westlaw AU. We discuss the different research methods for locating legislation, commentary and related materials

Show Transcript
Please be advised that Westlaw April 2018 release has had to be postponed and will be rescheduled. We will send a new communication out shortly, once the new release date is confirmed.