Westlaw AU
Thomson Reuters Training & Support
Welcome to Westlaw AU Support
This site provides user guides, videos, FAQs, tips, update information and more to help you get the most out of your Westlaw AU service.
We also offer customers a range of complementary training options – including face to face , telephone, webinars and video tutorials. Click here to request training.
If you are looking to log on to Westlaw AU, go to www.westlaw.com.au in your web browser.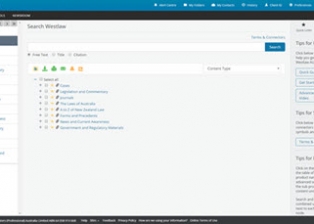 Popular guides & tutorials
Tue 02 June 2020, 11:00am
20 - 30 minutes
By Tia Friedland
This Webinar covers searching for cases by key words, legislation considered, point of law, or other advanced options and how results can be narrowed using refine and filter techniques. It will also cover the setting of Case Alerts, and introduces First Point as a valuable tool to access citation information for cases.
PLEASE NOTE:
This is a short, concise Webinar to support Westlaw AU users in the current changed working conditions and will cover the basics of the topic with time allocated at the end of the Webinar for individual queries.
The presenter will remain online following the presentation to answer questions related to the topic or using Westlaw AU generally.
Show Transcript
The Magistrates Court Practice SA Noticeboard is your ticket to news as it occurs in the Civil Divison of the Magistrates Court of South Australia. With frequent and rapid updating by retired Deputy...