Westlaw AU
Thomson Reuters Training & Support
Welcome to Westlaw AU Support
This site provides user guides, videos, FAQs, tips, update information and more to help you get the most out of your Westlaw AU service.
We also offer customers a range of complementary training options – including face to face , telephone, webinars and video tutorials. Click here to request training.
If you are looking to log on to Westlaw AU, go to www.westlaw.com.au in your web browser.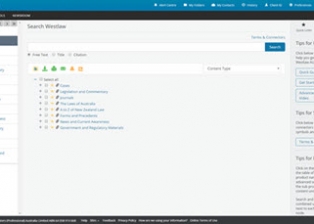 Popular guides & tutorials
Tue 14 April 2020, 09:30am
20 - 30 min
By Tia Friedland
This session outlines the steps to conduct Legal Research using Westlaw AU
PLEASE NOTE:
This is a short ,concise Webinar to support Westlaw AU users in current changed working conditions and will cover the basics of the topic, with time allocated at the end of the Webinar for individual queries
The presenter will remain online following the presentation to answer questions related to the topic or using Westlaw AU generally.
Show Transcript
The NewsRoom product on the Thomson Reuters Westlaw, Westlaw AU and Westlaw NZ platforms includes licensed news content from the Australian Financial Review (AFR) daily newspaper. 
Recently, the...