Westlaw AU
Thomson Reuters Training & Support
Welcome to Westlaw AU Support
This site provides user guides, videos, FAQs, tips, update information and more to help you get the most out of your Westlaw AU service.
We also offer customers a range of complementary training options – including face to face , telephone, webinars and video tutorials. Click here to request training.
If you are looking to log on to Westlaw AU, go to www.westlaw.com.au in your web browser.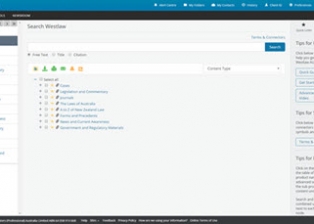 Popular guides & tutorials
Tue 25 February 2020, 15:30pm
30 minutes (Basics) 60 minutes (expanded)
By Tia Friedland
This session demonstrates the basic functionality of Westlaw AU and guides the new user to research effectively. It's also very useful as a refresher for those who have previously used Westlaw AU and also a good starting point for more advanced Webinars.
Duration is 30 - 60 minutes
30 minutes will cover the Basics (1/2 CPE Point)
30 - 60 minutes will explore the platform further with additional examples (1 CPE Point - see below for details)
Show Transcript
The following Subtitles are now updated and available on Westlaw AU:

Communications 6.6 "Telecommunications" (Ch 2); Criminal Offences 10.7 "Revenue and Currency Offences"; Intellectual Property 23.1...