Westlaw AU
Thomson Reuters Training & Support
Welcome to Westlaw AU Support
This site provides user guides, videos, FAQs, tips, update information and more to help you get the most out of your Westlaw AU service.
We also offer customers a range of complementary training options – including face to face , telephone, webinars and video tutorials. Click here to request training.
If you are looking to log on to Westlaw AU, go to www.westlaw.com.au in your web browser.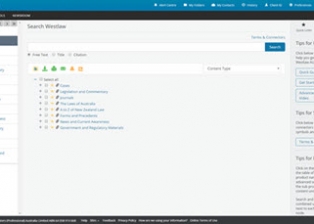 Popular guides & tutorials
Wed 27 January 2021, 15:00pm
20 - 30 minutes
By Tia Friedland
This session demonstrates the basic functionality of Westlaw AU, enabling the new or infrequent user to navigate and research effectively
Show Transcript
The following Subtitles are now updated and available on Westlaw AU:
Criminal Procedure 11.2 "Investigation by Independent Agencies"; Family Law 17.2 "Professional Ethics"; Finance, Banking and...