Westlaw AU
Thomson Reuters Training & Support
Welcome to Westlaw AU Support
This site provides user guides, videos, FAQs, tips, update information and more to help you get the most out of your Westlaw AU service.
We also offer customers a range of complementary training options – including face to face , telephone, webinars and video tutorials. Click here to request training.
If you are looking to log on to Westlaw AU, go to www.westlaw.com.au in your web browser.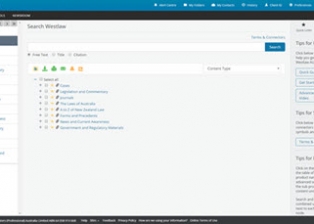 Popular guides & tutorials
Wed 22 January 2020, 12:30pm
30 minutes (Basics) 60 minutes (expanded)
By Tia Friedland
This session is valuable for anyone conducting Case Law Research, and will demonstrate how easy it is to locate case summaries, Legislation considered and cited and citing references for cases. The Classification system used in First Point (Powered by the Australian Digest) will also be explored, enabling the researcher to find cases related on a point of law.
Duration is 30 - 60 minutes
30 minutes will cover the Basics
30 - 60 minutes will explore in more depth (1 CPE Point - see below for details)
Show Transcript
Subscribers are advised that, contrary to the instructions in the Filing Instructions for Update 34, December 2019, Injunctions, the new tab card referred to therein was inadvertently not mailed. 
...