Westlaw AU
Thomson Reuters Training & Support
Welcome to Westlaw AU Support
This site provides user guides, videos, FAQs, tips, update information and more to help you get the most out of your Westlaw AU service.
We also offer customers a range of complementary training options – including face to face , telephone, webinars and video tutorials. Click here to request training.
If you are looking to log on to Westlaw AU, go to www.westlaw.com.au in your web browser.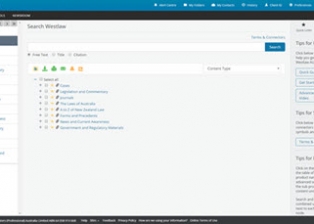 Popular guides & tutorials
Tue 22 June 2021, 11:00am
30 minutes
By Tia Friedland
Learn how to navigate Newsroom on Westlaw AU.
Show Transcript
Company and Securities Law Journal, Vol 38 No 5, is a Special Issue entitled: "Financial Services Laws – Understanding the Devil in the Detail". In the context of the Australian Law Reform Commission's review of Australia's financial services regulatory regime, the issue examines the...